Anyone love holistic skincare? Green Beauty favorite, Blissoma, is May's Beauty Heroes' Discovery! You'll get two full-size products this month and they're both perfect for sunshine, brightening up the skin and helping to rid the skin of any discoloration or hyperpigmentation. Check out below what's inside! This Discovery has a value of $124 and you can get it for a limited time for under $40. Get it here.
WHAT'S IN THE MAY DISCOVERY?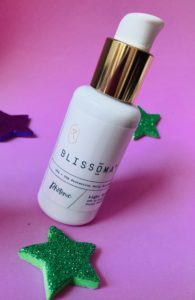 Photonic Light Shifting Solution, SPF 25 (1.6 oz | $52)
I love a sun protection product that doubles as an incredible skin care product, as well. This lightweight solution not only protects the skin, but offers hydration and antioxidant nourishment. It contains argan, tamanu, sesame and red raspberry help to soften and condition the skin, zinc oxide provides broad-spectrum protection and (big favorite) niacinamide helps work against hyperpigmentation. Other ingredients include: black tea, gotu kola and hydrangea.

Aura Phyto Brightening Serum (1.3 oz | $72)
Brighten up! These products work together to protect and brighten the skin. The Aura Phyto Brightening Serum is made with 14 minerals, antioxidants and vitamins to diminish the appearance of melasma and hyperpigmentation. Special ingredients? "PomellaÒ, a whole fruit pomegranate extract. The formula is boosted with Sodium Ascorbyl Phosphate at 3% to make Aura the ultimate daily essential." Lightweight, Aura is designed to worn daily under Photonic for maximum protection. Love it!
Get the Discovery here.
Subscribe To Our Newsletter
Join our mailing list to receive the latest news and updates from our team.